India
Coronavirus India Live Updates: Weekend lockdowns have limited impact, Centre told Maharashtra
The official health bulletin pegged the number of Covid tests at 7,017, of which 5,879 were RT-PCR tests while 1,138 were antigen tests. (Express Photo by Amit Mehra/File)
The Centre on Tuesday said that an increase in the intensity of the pandemic has led Covid to spread at a faster pace than last year and that the next four weeks are very critical. At a press conference, NITI Aayog Member (Health) Dr V K Paul said the pandemic situation in the country has worsened with a sharp rise in cases and a large part of the population is still susceptible to the virus.
LIVE UPDATES | Coronavirus in India: Latest news and updates, April 7
Meanwhile, Union Health Secretary Rajesh Bhushan said the Centre is concerned about Maharashtra, Chhattisgarh and Punjab as they have been reporting the maximum number of fresh cases and deaths in the country. He further informed that the Centre has asked the state governments to ramp up RT-PCR tests after it noticed that only 60% of the tests were done using the method in Maharashtra last week.
Earlier in the day, the Delhi government imposed a night curfew from 10 pm to 5 am till April 30 in the wake of rising cases. A proposal to bring back the curfew was sent to the Chief Minister's office on Monday after several discussions within the government over the sharp rise in Covid-19 cases. Officials also took into account large gatherings at restaurants and clubs at night. (Here's the full list of who all are exempted in Delhi)
This comes after India, on Monday, reported 96,982 fresh coronavirus cases and 446 related deaths. Of these, 47,288 cases were reported in Maharashtra. While cases in Chhattisgarh scaled a new high of 7,302, and the count in Karnataka crossed the 5,000-mark. The country's active case tally now stands at 7,88,223. While 164 people died in Maharashtra, 72 deceased in Punjab. The country's cumulative count climbed up to 1,26,86,049, while the death toll stands at 1,65,547. Over 43 lakh people were also inoculated on Monday, pushing the vaccination count up to 8,31,10,926.
Live Blog
India records over 96,000 new cases; Night curfew imposed in Delhi; Maharashtra lockdown and curfew restrictions come into effect; Pune and Mumbai worst-hit cities in Maharashtra.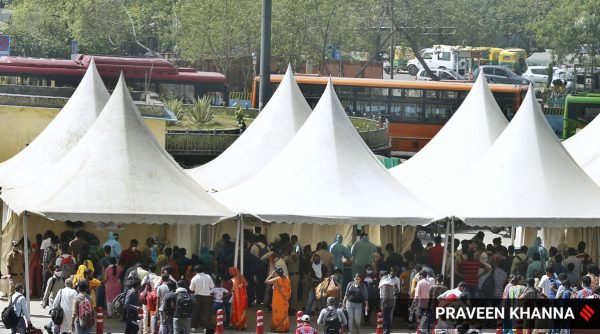 A Covid-19 testing camp at Anand Vihar interstate bus terminal in New Delhi on Saturday. (Express Photo: Praveen Khanna)
Dr Guleria: 'Need strategies on what to do despite people not following Covid norms'
As India grapples with a second wave of Covid-19 cases, Dr Randeep Guleria has been central to the country's disease response. As head of clinical research group of the national Covid-19 task force, he is instrumental in framing treatment policies. In an Idea Exchange with The Indian Express, the AIIMS chief says vaccination will open up but "gradually", advises caution over theories regarding re-infection, addresses the "Bihar paradox" when polls did not see a surge, and says approvals for vaccination in children must be fast-tracked.
"I think the numbers are worrying… Firstly, this wave is much steeper than what we have seen in the past. It has taken much less time to cross the 80,000 cases per day mark this time. Secondly, the degree of fear or panic that was there when we had crossed the 80,000-mark last time does not seem to exist today. There is no Covid-appropriate behaviour. Despite the numbers crossing the 80,000-mark, people are planning holidays, hotels are full at all hill stations. So that is worrying. We don't have data which suggests that we have a good degree of immunity. A majority of our population is susceptible and we are also seeing new variants of the virus now, which we know can be more infectious. They can also develop 'immune escape', which may allow some degree of reinfections."
An Expert Explains: Lessons and challenges after a year with the coronavirus
Family and friends often call to know which of the two Covid-19 vaccines available in India is better. My advice to take whichever is easily available is met with apprehensions about adverse effects of vaccines. This is symptomatic of the past year, a year full of half-truths, false claims and often outright lies that became more viral than the virus itself. While it has been a remarkable year for science and the value it brought to society, there is little understanding of the scientific method, which relies on data and evidence.
As India approaches one year of its lockdown, I review the year gone by and attempt some cautious crystal gazing into what lies ahead.
© IE Online Media Services Pvt Ltd